Strategy execution and transformation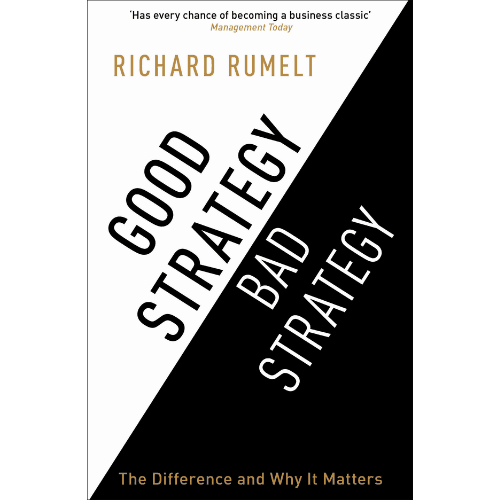 18. Good Strategy/Bad Strategy
Author: Richard Rumelt
Quick summary: This book provides an overview of strategic thinking, with a focus on identifying and executing effective business strategies. It emphasizes the importance of creating a coherent and focused strategy, based on clear understanding of the organization's strengths and weaknesses, as well as the external environment
19. The 4 Disciplines of Execution
Authors: Chris McChesney, Sean Covey, and Jim Huling
Quick summary: This book provides a framework for achieving business results by focusing on a few key priorities. The book presents four disciplines — focus on the wildly important, act on lead measures, keep a compelling scoreboard, and create a cadence of accountability.
20. Digital Transformation Playbook
Author: David Rogers
Quick summary: This book offers a practical guide to digital transformation, with a focus on developing digital strategies that can drive business growth and success. It includes how to assess the current state of the organization, identify opportunities for growth, and create a roadmap for digital success.
21. The Goal
Author: Eliyahu M. Goldratt
Quick summary: This is a novel that introduces the Theory of Constraints, a methodology for identifying and eliminating constraints in business processes to improve efficiency, profitability, and productivity. It tells a story about a manufacturing plant manager who learns about the Theory of Constraints, which helps him to identify and eliminate bottlenecks.
22. First Things First
Author: Stephen R. Covey
Quick summary: This book provides practical advice on how to prioritize tasks and manage time effectively, with a focus on achieving personal and professional goals. It gives a holistic approach to time management, emphasizing the importance of clarifying values, setting goals, and prioritizing tasks based on importance and urgency.
23. The Fifth Discipline
Author: Peter M. Senge
Quick summary: This book introduces the concept of a learning organization, with a focus on developing systems thinking and continuous learning to drive organizational success. It emphasizes the importance of an organization that can adapt and thrive in a constantly changing environment, with a focus on cultivating personal mastery and team learning.
24. Execution: The Discipline of Getting Things Done
Authors: Larry Bossidy and Ram Charan
Quick summary: This book offers practical advice on how to execute business strategies effectively. It provides a roadmap for achieving business objectives through effective leadership, clear communication, and a culture of accountability, with a focus on aligning strategy, people, and processes.
25. Playing to Win
Author: Roger L. Martin
Quick summary: This book gives a practical and actionable framework for creating and implementing a winning strategy for your business. It emphasizes that strategy involves making simple choices (five, to be exact) and highlights critical questions needed to develop a viable, results-focused, and sustainable strategy.
---
Dreams with Deadlines is the one and only strategy meets execution community. We're a global network of ambitious leaders who are passionate about using OKRs and agile practices to achieve audacious goals and build a better future.
Whether you're new to OKRs or a seasoned pro, the Dreams with Deadlines community is where you'll find the knowledge, connections, and resources you need to achieve your goals with greater confidence, efficiency and impact.
Join for free to get access to our private Slack forum, exclusive events, and curated networking opportunities to fuel your personal and professional growth.
Additional resources