Why does Personio use OKRs?
As Europe's leading HR software company for SMBs, Personio is valued at $8.5 billion, with more than 1,600 employees working to build continuous brand success. The company uses bi-annual OKRs as its goal-setting approach to handle complex operations. Here's why:
Focus: Ensuring employees contribute to key

company goals

Ownership and autonomy: Empowering employees to achieve goals
Culture of innovation: Pushing employees toward ambitious long-term objectives
Alignment and visibility: Connecting employees across departments and teams
OKRs set focus
Personio establishes focus by distinguishing between KPIs and OKRs. While KPIs are vital for measuring relevant success metrics, OKRs enhance focus on the most critical strategic items. This approach helps Personio adapt to changing circumstances while maintaining momentum, distraction-free, toward long-term goals.
OKRs drive ownership and autonomy
At Personio, outcome-driven key results give individual teams the freedom to define how they'll achieve their goals without a prescriptive approach.
To illustrate, consider a restaurant — ingredients are inputs, meals are outputs, and customer satisfaction is the outcome. Personio's outcome-focused OKRs give its teams the flexibility to achieve this outcome, or cook their meal, how they see fit.
"Having an outcome KR gave the team freedom to experiment and try other tactics. At the end of the OKR period, they achieved 80% on their KR."
OKRs foster a culture of innovation
Personio categorizes its OKRs into two types: roofshots and moonshots. Roofshot OKRs are fundamental and require 100% attainment, while moonshot OKRs are ambitious and involve out-of-the-box thinking.
Roofshot OKR: Reduce reply times from five to two hours by optimizing support processes
Moonshot OKR: Reduce first reply time to one minute
"The answer that gets you to that roofshot will have to look different from the one that gets you to the moonshot."
To encourage employees to aim high, Personio doesn't let OKRs tie into individual performance, reducing the fear of failure and experimentation.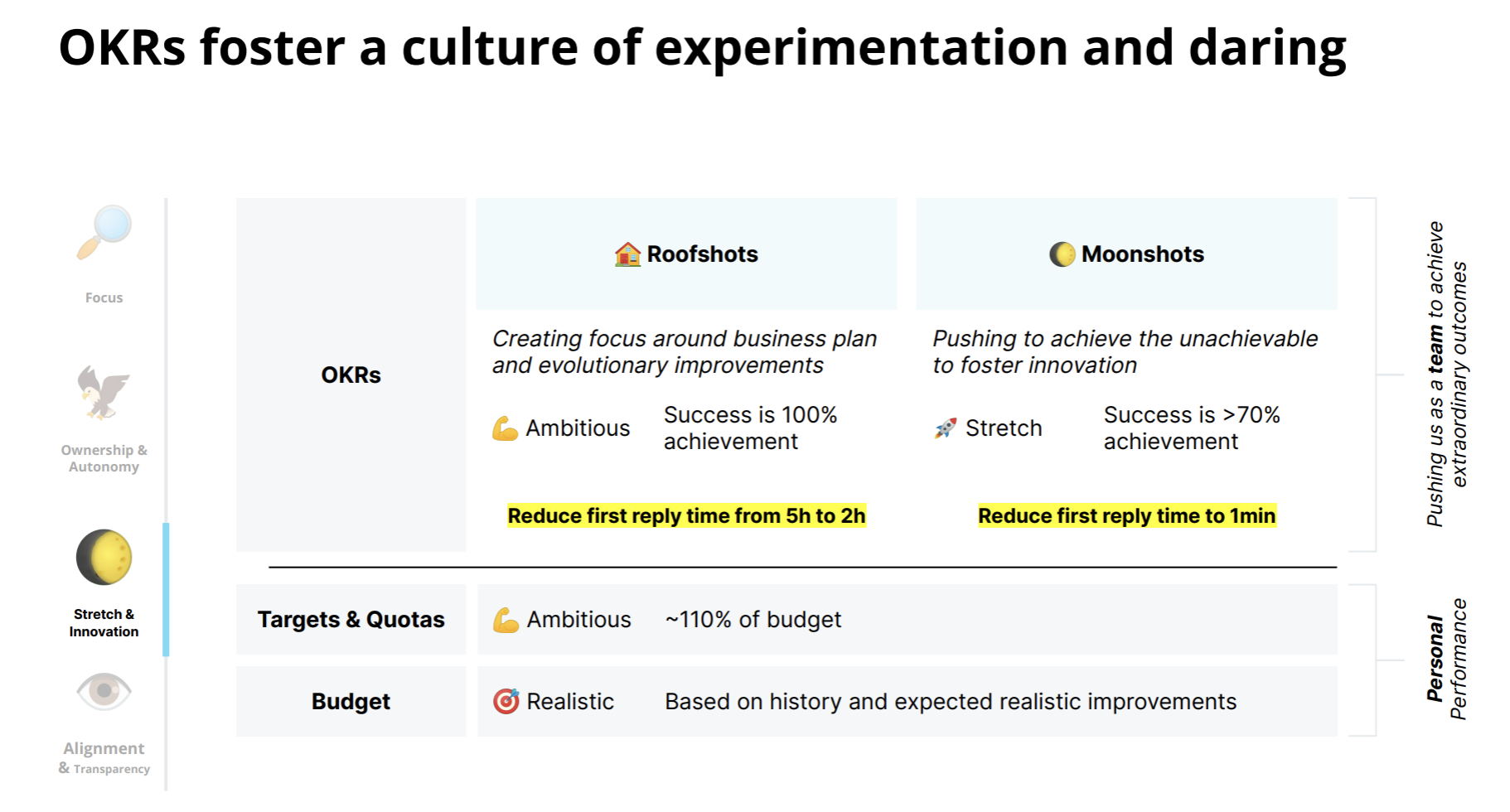 OKRs establish alignment and transparency
When Personio had 200 employees based in Munich, they used to host an OKR fair. Teams would gather at the office, enjoy food and drinks, and browse through booths showcasing teams' OKRs and strategies for the next six months.
However, when the pandemic hit, they needed an alternative — Miro boards and online treasure hunts stepped in to create transparency and ensure everyone understood what the company, departments, and teams were trying to achieve.
Personio's OKR fair is an evolving event that promotes cross-functional collaboration and ensures everyone knows their contribution to the company's success.
Additional resources