During our 22nd OKR Champions Roundtable, Keybank's Stephanie Gillespie (SVP, Agile Transformation Office) and Michael Goitein (Enterprise Agile and OKRs Coach) shared how the company's agile transformation office (ATO) uses OKRs to align business strategy and team execution.
KeyBank, a 200-year-old bank-based financial services company, established an ATO to improve its ability to test, learn, and course-correct to deliver customer impact.
This new office aimed to become a strategic enabler for the enterprise, directly contributing to structural and cultural change that aligns priority outcomes with team execution and capacity; improving planning, the flow of work, transparency and employee engagement.
What drove KeyBank's transformation?
After saving hundreds of small businesses throughout the pandemic using the Small Business Administration's (SBA) Paycheck Protection Program (PPP), KeyBank wanted that same focus, alignment, and speed throughout the organization.
Stephanie Gillespie notes:
"Our executive leadership team got really excited and asked, 'How do we recreate this?' I think the struggle was that it wasn't sustainable. At the time Key was very siloed and functional […] we had to pull people out of their day jobs and bring them together as a cross-functional team. When we do that and we give people focus around a common mission, we're able to execute with extraordinary speed. So, we wanted to recreate that but in a sustainable way…OKRs were a really big part of that."
OKRs would help them address:
Unclear and competing priorities

Siloed decision-making

The lack of backlog visibility

Heavy emphasis on outputs over outcomes

The high degree of multi-tasking, diluting focus

Misaligned stakeholder expectations
KeyBank's approach to change management
KeyBank tackled change management by focusing on three areas:
Processes

Mindsets

Underlying systems
It implemented a three-tier hierarchy, programs, training, revised work structure, cutting-edge tools, OKRs, and a quarterly inspection rhythm to do this. Leadership involvement ensured everyone was aware of top-down support, while ongoing feedback allowed the ATO to iterate as needed.
The new operating model
Initially, KeyBank's business structure was siloed and hierarchical, leading to slow planning. The new operating model focuses on vertical alignment, with cross-functional teams known as "super squads" executing initiatives and improving the customer experience.
OKRs function as North Stars, honing its focus on priorities critical to KeyBank's mission.
How KeyBank uses OKRs to bridge the strategy execution gap
KeyBank implemented a three-tier hierarchy to align cross-functional teams and execution with the organization's strategic objectives and goals.
OKRs are introduced at the initiative level, with portfolios emphasizing OKR-based work. Programs then prioritize features on a quarterly basis based on important initiatives. This approach has been essential for KeyBank's scale.
Currently, strategic initiatives serve as a starting point for their OKRs. However, starting in 2024, KeyBank plans to define OKRs, then identify initiatives to drive that work.
"There are just not enough hours in the day for people to create all this (reporting) content manually," said Stephanie. "Conversations (driven by tools) need to happen. Having the tools to inform those conversations so that you can see the data that previously was invisible has been really helpful for us. And OKRs are one of those elements we track in the tool."
The OKR check-in cadence
KeyBank sets annual OKRs to drive progress and alignment, with teams checking in on them every month. These check-ins determine whether or not teams are making progress and why.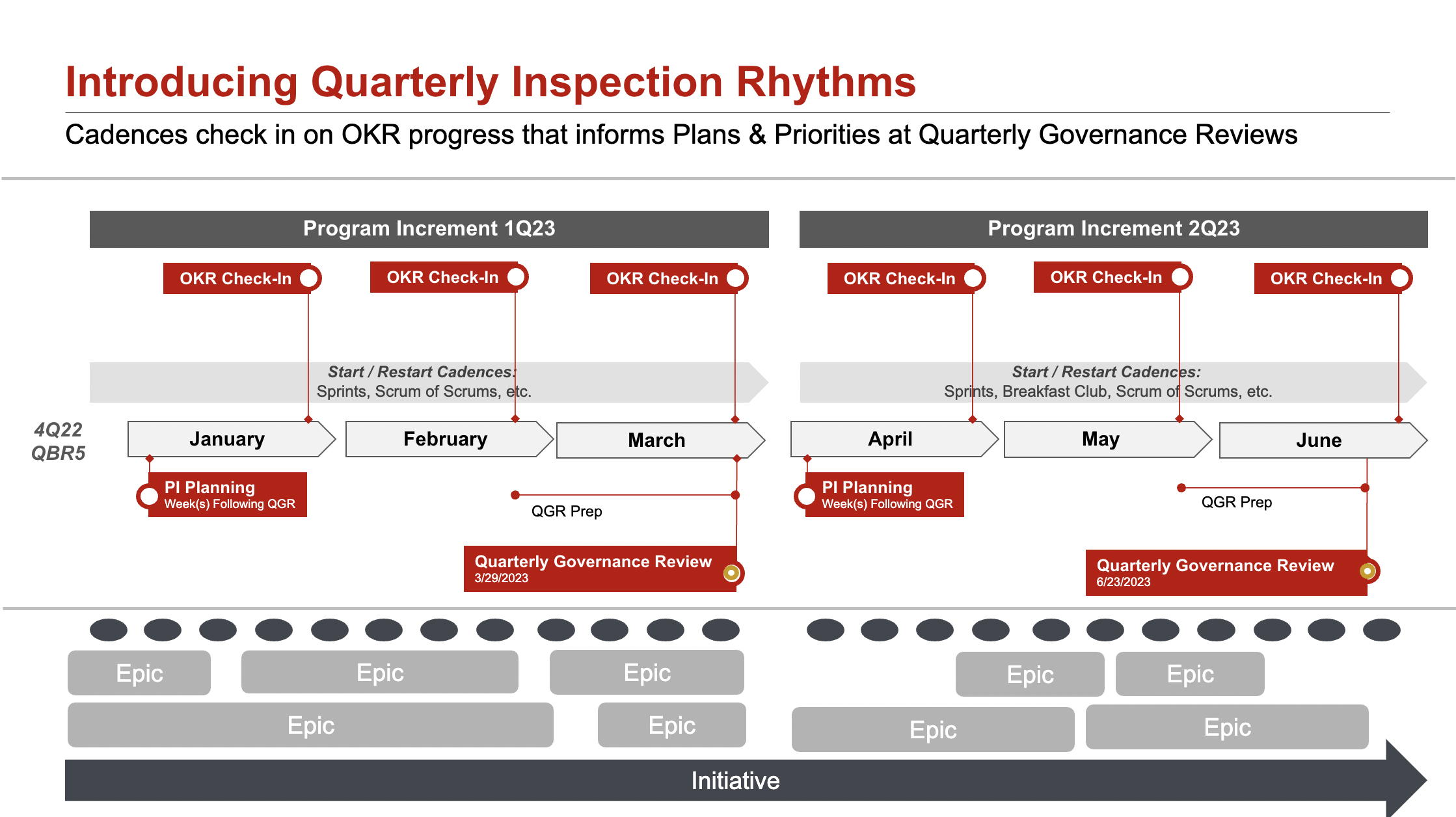 At the end of each quarter, KeyBank initiates objectives and strategy-focused discussions instead of the work itself. Such questions include:
Do we continue this path next quarter?

Do we need to revisit our strategy?

Do we need to pivot?
Executive leadership also engages in quarterly discussions to see whether the strategy and key results remain the same or require reprioritization. This helps KeyBank plan for the upcoming quarter and adjust as needed.
What lessons did KeyBank learn?
As KeyBank implemented OKRs into its new operating model, it learned some key lessons:
Not expecting a "one size fits all solution"

Emphasizing progress over perfection

Providing ongoing support to enable change

Being consistent and clear in terminology

Prioritizing feedback

Understanding that OKRs may not suit all teams
KeyBank's next steps with OKRs
KeyBank's start with OKRs was not their long-term solution. The current approach provided the ATO with a way to introduce OKRs, while monthly check-ins introduced the alignment of execution to strategy.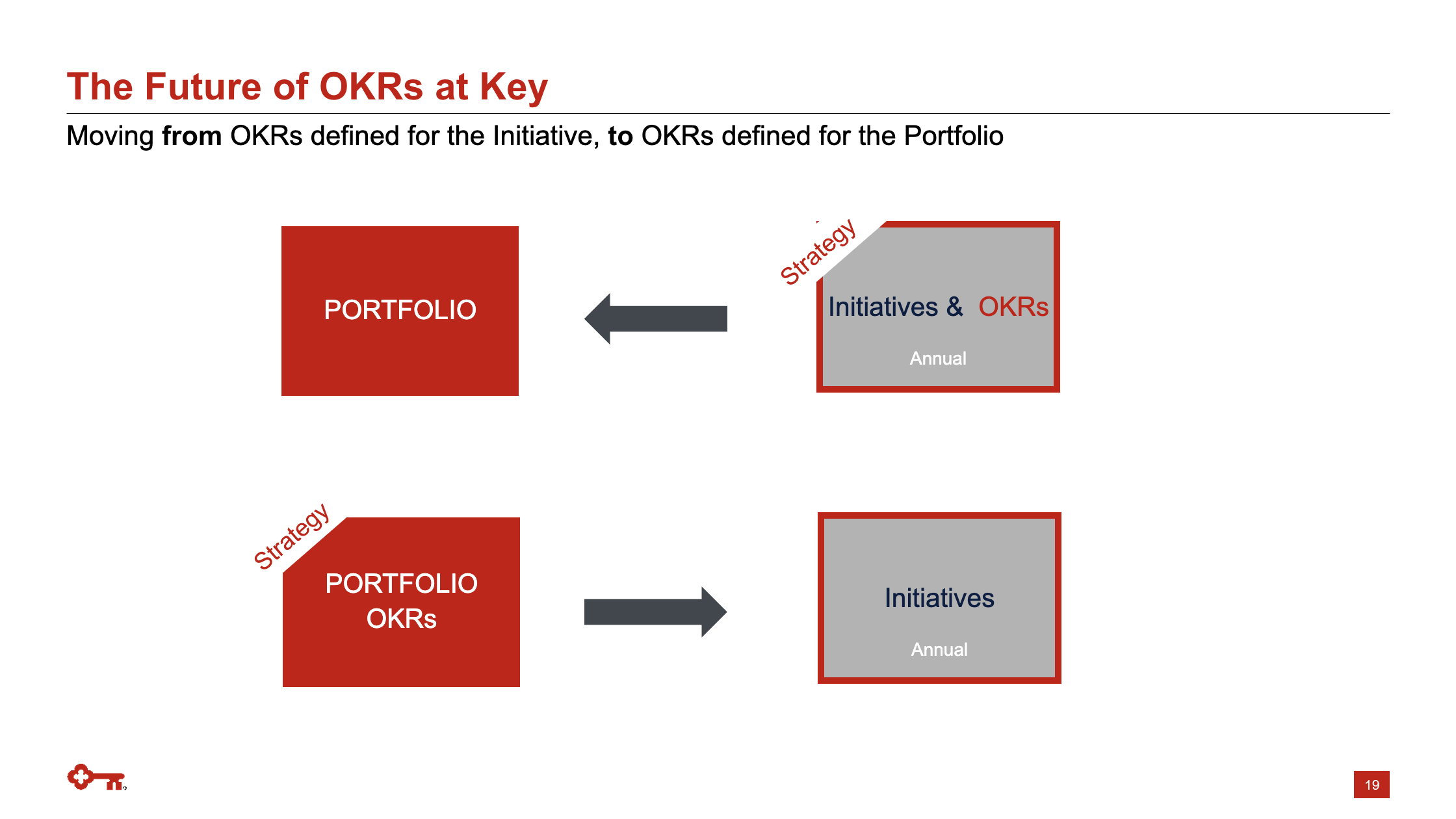 As the company matures, its next step in 2024 will be disconnecting OKRs from initiatives and aligning them to a portfolio, where OKRs can be supported by one-to-many initiatives.
---
Dreams with Deadlines is the one and only strategy meets execution community. We're a global network of ambitious leaders who are passionate about using OKRs and agile practices to achieve audacious goals and build a better future.
Whether you're new to OKRs or a seasoned pro, the Dreams with Deadlines community is where you'll find the knowledge, connections, and resources you need to achieve your goals with greater confidence, efficiency, and impact.
Join for free to get access to our private Slack forum, exclusive events, and curated networking opportunities to fuel your personal and professional growth.
Additional resources