The management operating model (MOM) can be seen as a new framework for effective strategy execution. Rooted in operational excellence, strategy development, and Abenomics structural reforms, the MOM guides organizations through value-added activities that align with business strategy. In this article, we'll dive into MOM and describe how it facilitates strategy execution, using a case study to exemplify its practical application.
What is a management operating model?
In short, the management operating model brings together the organizational structure, technical tools and systems, business processes, people, communication, and control mechanisms to deliver value following the company strategy.
What is the target operating model?
That target state of the organization's operating model, or the target operating model (TOM), describes the ideal operating model condition. It represents how an organization can be best organized to adequately disseminate, align toward, and execute strategy across the company.
The purpose of a management operating model
Having a proper management operating model in place is essential for:
Disseminating strategy across all levels of the organization

Enabling strategic execution by effectively deploying resources through using a suitable organizational structure

Driving strategy by hiring the right people, designing the right processes, and mapping these toward execution using the right technology for deployment
How the management operating model executes strategy
Now that we know the 'what' and 'why', let's look at the 'how.' We'll break down the components of the management operating model and see how these come together to facilitate strategy execution.
The components of the management operating model
Let's start by dissecting the management operating model, which comprises the:
Management operating system

Organizational structure & budget/resource allocation

Organizational design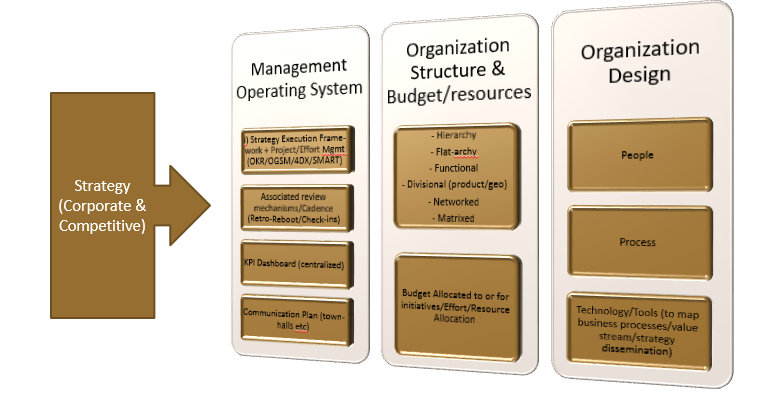 Management operating system
The management operating system represents the strategy and control center of the organization, supporting the following processes:
Breaks down strategy into goals, metrics, and projects, passing these down the organization using frameworks like

objectives and key results (OKRs

) and objective, goals, strategies, and measures (OGSM)

Controls business procedures and their outcomes through the KPI dashboard

Develop a communication plan

Facilitates the cadence of performance reviews
Organizational structure & budget/resource allocation
The organizational structure is designed (or redesigned) to facilitate the effective implementation of the strategy. Budget and resources are allocated to the projects or strategic initiatives derived from breaking down strategy into goals, metrics, and projects.
Organizational design
The organizational design is where the work actually happens, comprising people, processes, and technology. Employees with the right skills work together to design, redesign, and optimize business processes to achieve desired outcomes. Process outcomes and adherence to best practices are tracked using KPI dashboards, which reveal these insights to executives and inform strategic priorities.
See how these drive strategic execution in the use case below.
Case study: Using MOM for strategy execution
Context: A growth-stage, boot-strapped start-up goes into survival mode during the COVID-19 pandemic
Goal: To increase runway at minimal costs
Short-term survival tactic:
Stop hunting for new clients in untapped markets

Strengthen relationships with existing clients

Allocate resources to revenue-generating activities

Halt non-revenue generating/experimental activities
Strategy execution framework of choice: OKRs applied alongside a monthly review cadence and quarterly progress broadcast
This cross-functional OKR would have multiple owners — each held accountable for a different key result — and could look like:
Objective: Grow existing runway by focusing on existing revenue generators at a limited cost
Key result 1: Increase cross-sell revenue from $800,000 to $1,300,000 across SEA & MENA by the end of the year
Key result 2: Increased renewal rates among all contracts ending this year from last year's 85% to 90%
Key result 3: Increased NPS across all existing clients from 45 to 55 by the end of the year
Key result 4: Reduced CAC-to-revenue ratio from 0.25 to 0.20 by the end of the year
Key result 5: Increased utilization of billable resources against already revenue-generating activities from 50% to 85% by the end of the year
Key projects:
KPI dashboard creation (Key metrics including NPS, upsell and cross-sell revenue, revenue per employee, operational expense ratio, and renewal rates)

CS team creation and restructuring

New design for CSAT, NPS tracking, and upsell/cross-sell processes

Outsourcing vendor identification to boost revenue per employee (by white labeling services and products to clients or developing in-house products at a lower cost)

Identification of revenue-generating activities and reallocating resources toward these
Over to you
The management operating system aligns management operating systems, structures, and organizational designs toward your business strategy using frameworks like OKRs, enabling effective resource allocation and strategic execution.
If you want to create your own strategy execution mechanism, executing a current state analysis of your existing operating model can be a great starting point. This can help you understand your current internal process and inefficiencies as a springboard for optimizations.
---
Dreams with Deadlines is the one and only strategy meets execution community. We're a global network of ambitious leaders who are passionate about using OKRs and agile practices to achieve audacious goals and build a better future.
Whether you're new to OKRs or a seasoned pro, the Dreams with Deadlines community is where you'll find the knowledge, connections, and resources you need to achieve your goals with greater confidence, efficiency, and impact.
Join for free to get access to our private Slack forum, exclusive events, and curated networking opportunities to fuel your personal and professional growth.
About the author:
Strategic Operations professional with experience in operational excellence, continuous improvement, and strategy deployment via OKR consulting & coaching, process creation, standardization & continuous improvement looking for opportunities in startups, growth stage or matured companies in professional services — IT, Technology (Fintech) etc.
Additional resources